보도기사
Celebrating the End of a Succe
No. 11
Date registered : 2014.12.22
10449 hits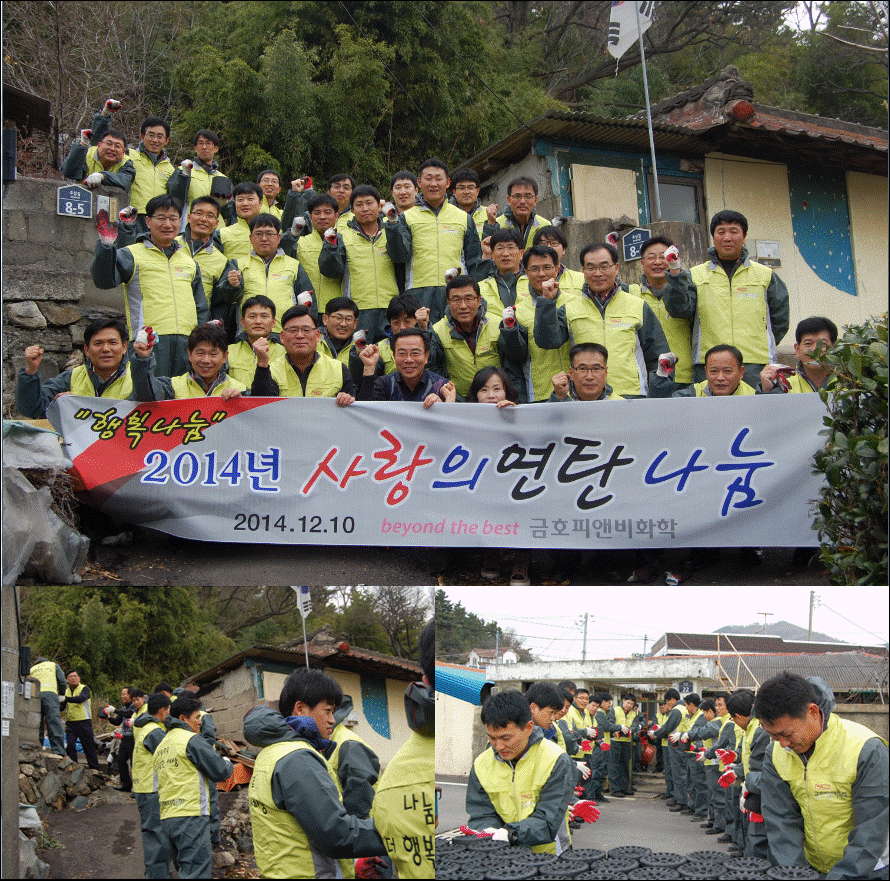 Celebrating the conclusion of yet another successful year, members of KPB, at Yeosu and Seoul alike, organized a campaign for delivering briquettes to homes in need in their respective regions.
On December 10, the Yeosu Plants saw foreman Yeong-ho Jeong and 37 other employees deliver briquettes that have been purchased with employee-raised charity funds to seniors living by themselves and other needy households in Jusam-dong. Volunteers felt saddened by the living conditions of and the chilly weather in the neighborhood. At the same time, however, they also felt glad for having done something for the locals.
On December 18, the Seoul Office saw KPB's CEO Dong-joon Moon, along with 53 other employees and 13 employees from Kumho Trading, visit households in need in Junggye-dong, Nowon-gu. The neighborhood was located on a steep hilltop, which was impossible to access because of the thick layers of ice that remained solid under chronic shades. Locals mostly moved about on bicycles and motorcycles, which appeared extremely dangerous. The 70 or so Kumho members who were on the scene had much difficulty delivering the heavy briquettes to the designated homes but this did not stop them from delivering all the briquettes that had been purchased.
In this campaign, based on partnership with the Seoul Briquette Bank, a nonprofit foundation, KPB donated 12,000 briquettes in total to the foundation and delivered 2,400 or so of these briquettes directly to some homes in need. All the participants regretted the fact that they could not bring more briquettes to these homes, as these homes were so tiny that they did not have enough rooms to store spare briquettes.
This year's charity campaign drew favorable responses from KPB's employees, who would usually spend this time of the year at company dinners and drinking. This year's campaign strengthened the company-wide resolve to reform the company culture and celebrate various occasions with good work.