PHENOL
IUPAC name

Phenol

Synonyms

Carbolic acid, Benzenol, Hydroxybenzene,
Phenic acid, Monophenol, Oxybenzene

Molecular formula

C6H6O

CAS number

108-95-2
Overview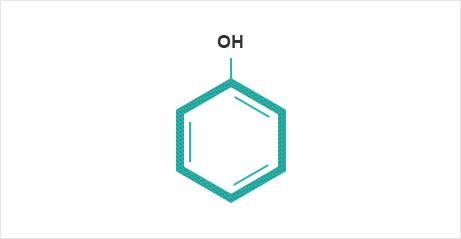 Also known as carbolic acids and Hydroxybenzene, phenols provide a raw material for diverse chemical compounds. Phenols remain solid at room temperature and turn into a transparent liquid with a distinct odor at 41°C or above.
Usage
Ingredient for phenol resins, bisphenol-A, caprolactam, alkyl phenols, anilines, and platicizers.
※ Because phenols solidify at room temperature, manufacturers also produce water-containing phenols, designed to prevent solidification.
Attributes
Sales Specifications
Sales Specification Table
Packing Units
200kg / 200ℓ Zn-coated Drum
ISO Tank, Bulk
Purity, wt.%
99.96 Min.
Molten Color, Pt/Co
10 Max.
Sales Specification Table

| | |
| --- | --- |
| Solidification Point, ℃ | 40.7 Min. |
| Water Content, wt.ppm | 300 Max. |
| Iron Content, ppm | 0.10 Max. |
| | |
Typical Properties
Typical Properties Table
Appearance
White Crystalline Mass
Clear Liquid (@41℃ or above)
Molecular Weight
94.11
Boiling Point, ℃
182
Melting Point, ℃
41
Flash Point, ℃
79
Autoignition Temperature, ℃
715
Typical Properties Table
Vapor Pressure @25℃, mmHg
(Solid) 0.35
Explosive Limits, vol.%
(Lower) 1.36%
(Upper) 10.0%
Vapor Density *[air=1]
3.2
Viscosity @80℃, cP
1.51
Specific Gravity *[H2O=1]
1.0576 (Liquid @41/4℃)
Solubility in Water @25℃, wt.%
8.3
※ As for information on handling as well as Environmental / Safety / Health information,
please click the link to the MSDS at the top of this page and see the MSDS in the Technology Database. * Soluble in all proportions above 66℃
Contact
담당 부서 표

| Nature of inquiries | Department | Location | Telephone | Email |
| --- | --- | --- | --- | --- |
| Sales/distribution (outside Korea) | Phenol Chain Overseas Sales Team | Seoul | +82-2-6961-3484 | 문의 |
| Sales/distribution (in Korea) | Phenol Chain Domestic Sales Team | Seoul | +82-2-6961-3457 | 문의 |
| Technical Support | Quality Management Team (Plant I) | Yeosu | +82-61-688-3862 | 문의 |